---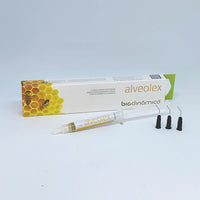 Alveolex- Dry Socket Paste
Dry socket paste with propolis an without irritating eugenol or fibrous particles.
Fill the socket with the paste, then suture to avoid contamination by food or other elements present in the mouth.
Is 100% absorbable by the body.
Can be used in all extractions to prevent Alveolitis and to stimulate healing in diabetic patients for examply (+/- 50% faster healing).