---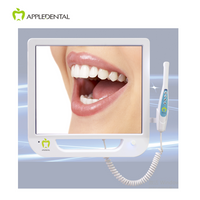 Intra Oral Camera with LCD/ Arm for Fixing
1. it have 550W Px ,the normal one around 500px.
2. using SONY CCD Large aperture camera,
3. 6pcs LED lamp with soft light , more clear
4. It has 17 inch ultra-thin screen, with high definition 1280*1024
5. It can be connected with USB video showing
6. Not only can take pictures but also can take videos
7. It have 4 picture in picture,to see the teeth problem in 360 degree.
8. We improved its screen, which easily for move and turn around.
9. We improved its handle tubes. This one is more flexible, and saving space .
10. We improved its holder, using metal ones, more stable and flexible for turning degrees.
Technical data:
Image sensor:CMOS1/4
Picture Display:1 picture/4 pictures
System Operation:Remote Control/Key
Back up mode:VGA connector,USB input
Storage Capacity:standard 8G.supported extra max 128G
Picture Storage Format:JPG
Focus Range:5mm-50mm
Consumption:30W