---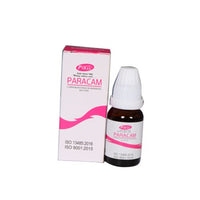 Paracam
 

Camphorated Parachlorophenol (CMCP)
Product Details:-
A solution for root canal cleansing and disinfection. Due to its oily composition, PARACAM remains active for long time.
Application:-
Disinfection of the dentine after cavity preparation. Disinfection after pulpectomy and pulp dressing. Treatment of post traumatic inflammation. Disinfection of the root canal.
Composition:-
Parachlorophenol and Camphor Method of Use: Place a cotton wool pledged soaked in PARACAM into the pulp chamber and seal. Remove the cotton wool dressing after a week's time and restore the tooth.