---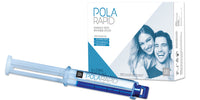 A unique 38% hydrogen peroxide formulation that releases active ingredients immediately. In only 1 visit, Pola Rapid initiates a powerful whitening treatment designed to whiten teeth in 24 minutes - 150% faster in-chair whitening than other leading brands!* No bleaching light required!
No mixing is required. Pola Rapid has unique built-in desensitizing properties that inhibit post-operative sensitivity. Potassium nitrate, the key pain reducing ingredient, prevents sensitivity to provide a calming effect. The high water content of Pola Rapid ensures maximum comfort during and after treatment. The shorter treatment time results in less patient discomfort and lower sensitivity.
Pola Rapid uses an advanced blue gel for ease of visibility and application. The easy to apply non-stick gel enables faster application and removal.
Available with and without Optragate, an extra soft disposable lip and cheek retractor. which gently and evenly retracts to provide a full view of the anterior and posterior teeth.