---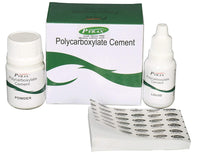 Polycarboxylate Cement
Dental Filling Cement
Polycarboxylate cement is a two component product i.e. powder and liquid, Which contains inorganic metal salts and polyacrylic acid respectively.

👉Used for Cementation of crowns, bridges, inlays and orthodontic brackets.

👉Used for Cavity lining under all restorative materials also used for temporary fillings.

👉Composition :- Powder- Zinc oxide, Magnesium oxide, Strontium Chloride, Tannic acid, Liquid :- Poly acrylic acid.

👉Packing :- 1 x 30 grams powder jar, 1 x 15 ml Liquid, 1 x spoon, 1x Mixing pad With Shelf Life 2 years from the date of Manufacturing.