---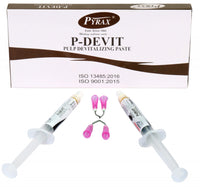 Pulp Devitalizing
Product Details:-
P-Devit is a powerful pulp devitalizer which contains para formaldehyde as active devitalizer. It is a fast acting and pain relieving paste due to presence of lignocaine.
Application:-
P-Devit is used for pulp devitailazation in treatment of pulpits or its amputation. The dough is also used for treatment of residual root pulpits of provisional and permanent teeth.
Composition:-
P-Devit contains para formaldehyde and Excipients.